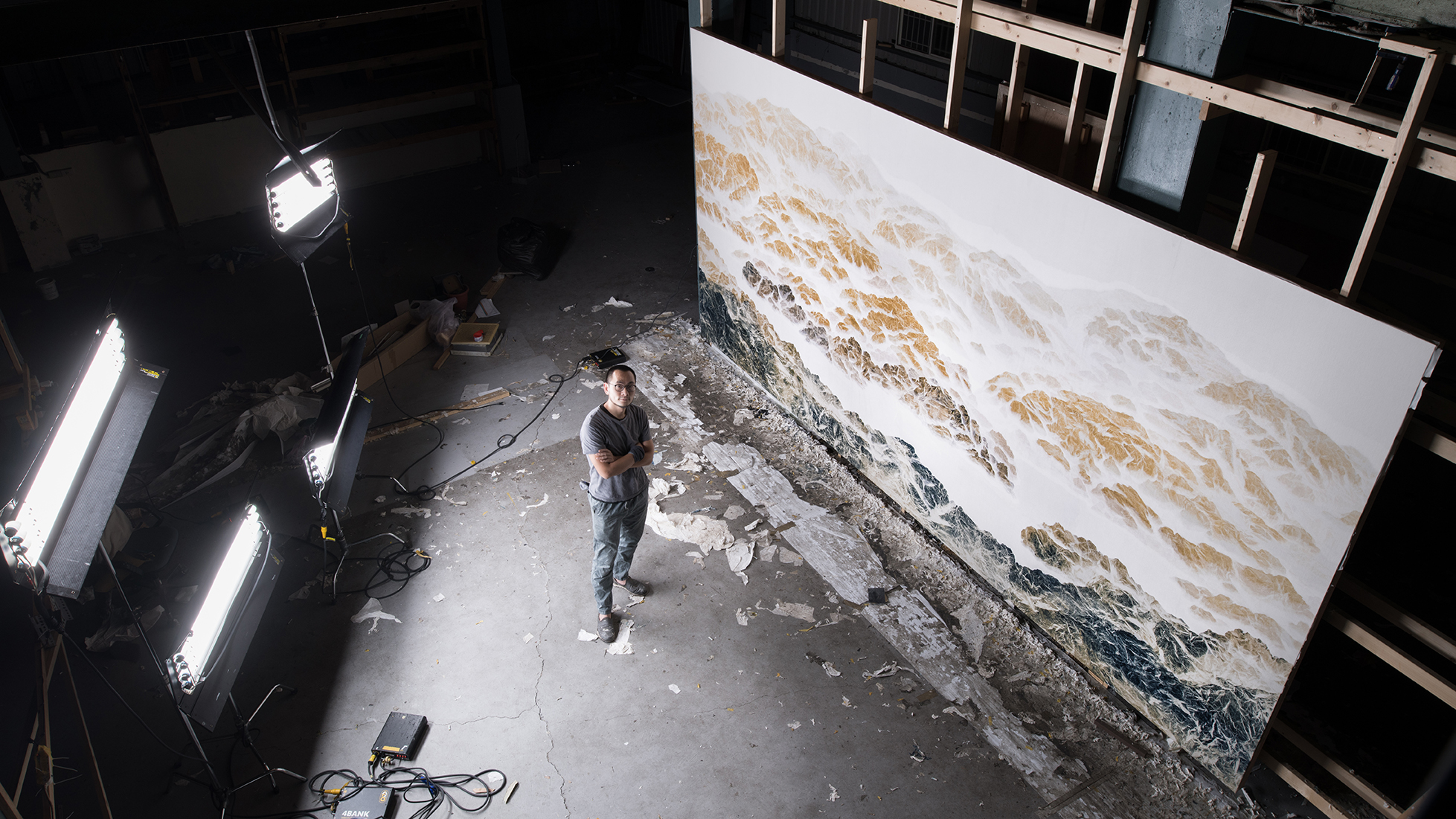 photo credit: Yu Tzu-Chin
In the early spring of 2015, Mr. Ni Tsai-Chin, a prestigious artist and art critic in Taiwan, died of disease. When learning the news, I recalled a summer vacation more than 10 years ago some friends and I served as assistants of Mr. Ni. We experienced a memorable summer in Mr. Ni's dormitory in Tunghai University. Being indulged in calligraphy and ink art all day, we often chatted extensively from southern transition of Chinese landscape paintings in Song dynasty to the western art made in Taiwan. His expanded horizons, insightful arguments, integrated knowledge of traditional and contemporary arts, and persistence in defending cultural subjectivity have nourished my art development since my novice periods.
To commemorate Mr. Ni, I present Cyano-Collage in a form of ink painting collage, what is Mr. Ni's conventional method, combines with wrinkled-texture cyanotype. Rice papers with photosensitive coating were wrinkled and exposed under sunlight to record the lighting and shading on the paper. A selection from dozens of pieces of cyanotype photographic paper was reorganized and edited before mounting on a canvas. The work is displayed in a style resembling Chinese Shan Shui and photomontage.
Cyano-Collage substitutes ink and brush strokes used in traditional Chinese Shan Shui with experimental photography to interpret the imagery of landscape in Eastern culture.


2015年初春,台灣重要藝術家暨評論家倪再沁先生病逝,消息傳來時,不禁遙想起十多年前的一個暑假,和幾位好友一塊去當倪先生的助手,在他東海大學的宿舍度過一個精彩難忘的夏天,鎮日與筆墨為伍,也常常從宋代山水的南渡,一路就聊到了台灣製造的西方美術,他開闊的視野和充滿機鋒的論點,對傳統的鑽研並行不悖於當代藝術的廣泛涉獵,但始終一身傲骨地捍衛著文化的主體性,給予啓蒙階段的我許多養分,至今亦然。
為紀念倪再沁先生,氰山集這個系列借用其水墨拼貼的形式,結合皴法習作的氰版直接攝影,將塗布感光藥劑的宣紙揉皺後曝曬於陽光下,記錄紙張當下的光影明暗,再選取數十幅氰版攝影相紙,以剪輯拼貼的手法,重組裱貼於畫布上,建構出宛如山水又似風景畫的攝影蒙太奇。
氰山集置換了傳統山水的筆墨,以實驗攝影的手法重新詮釋東方文化中的山水意像。