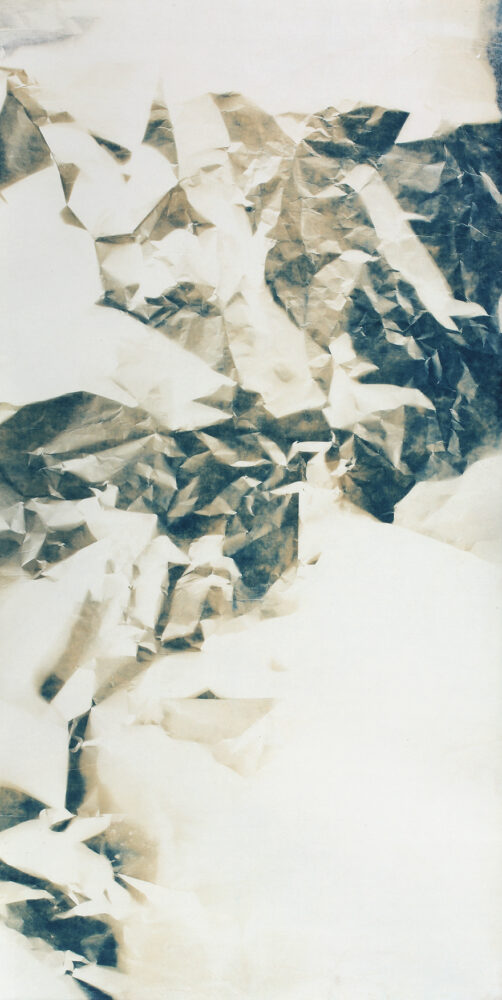 The photographic series " Wrinkled Texture " reinterprets the texturing methods (cun-fa) of traditional Chinese landscape painting (Shan shui).
Texturing methods are at the heart of traditional landscape painting, subjective renderings of rocks and mountain terrains. An extension of the penmanship seen in calligraphy, these texturing methods were used by painters as a way to express themselves, to convey the landscapes born of their imagination.
"Wrinkled Texture" utilizes the classic photographic technique – Cyanotype. Paper was covered in the photosensitive solution and then continually reshaped and refolded while being exposed to sunlight for about thirty minutes. After the paper was washed, the image would be fixed, revealing the likeness of mountain precipices and cliffs.
Works in the series "Wrinkled Texture" is similar to a photogram, but the object photographed is the paper itself and the outcomes of chance. It is an attempt to blend shan shui imagery of traditional painting with photography, conceptual art, and performance.
《皴法習作》( Wrinkled Texture )這系列攝影作品,將傳統山水畫中的「皴法」概念重新詮釋。
皴法是傳統繪畫中核心技法,筆墨對山石紋理主觀性的概括描述, 包含著書法用筆的概念,畫家藉此描繪個人想像中的山水景物,寄情其中。
作品中運用古老的氰版攝影法( Cyanotype ),將感光材料塗佈於宣紙上,在陽光下曝曬約三十分鐘,過程中不斷調整重塑紙張的皺折,而後水洗定影,記錄下其紋理,宛如山巒絕壁。
類似無相機攝影( Photogram)的手法,但拍攝的對象就是其紙張本身,和過程中隨機的皺折紋理變化,試圖將傳統繪畫的山水意象與攝影、觀念、行為融為一體。