'I started to do Cyanotypes simply because I am not satisfied with photography nowadays' explains artist Wu Chi-Tsung in this video, filmed in his studio in Taipei, Taiwan. A technique drawn from the early era of photography, Wu executes his Cyanotypes by applying chemicals to Xuan paper, which is crumpled by hand and exposed to sunlight on the roof of his studio; the artist then arranges the glacial forms that emerge onto aluminium mounts. The resultant 'Cyano-Collages' recalling the landscapes of the traditional shan shuior 'mountain water' tradition.
'It's really similar to how ink painters do Chinese landscapes,' says Chi-Tsung, 'they are building up, creating the worlds they want to project themselves inside.' Trained in the traditional idioms of calligraphy and brush and ink Chi-Tsung's commitment to innovative use of new and historic media and technology has seen him engage photography, projection, installation and moving image in works such as Dust (2006) and Wire VI (2021). Despite this diversity, his practice is united by an abiding, almost spiritual concern with process, perception and vision. 'I'm helping material to find its own being ' Chi-Tsung explains, 'at the same time I open up myself'.
'Wu Chi-Tsung: jing atmospheres' is on view at Sean Kelly, New York from 5 November to 18 December 2021.
---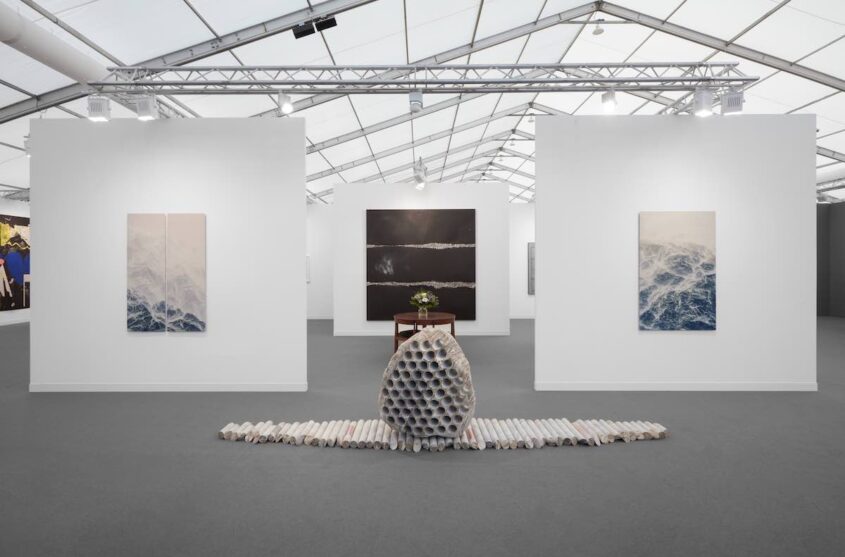 在吳季璁首次亮相倫敦弗里茲藝術博覽會之際,藝博會在尚凱利畫廊的協製下前往他在台北的工作室進行採訪與拍攝,製作了名為的《吳季璁:重新定義傳統》影片,並在官方網站中發表專文,介紹吳季璁重審傳統、尊重材料的創作哲學。
文中,吳季璁分享道,「《氰山集》的誕生來自於我對於當下的攝影的不滿足」,並介紹「其內核與水墨畫很像。我們都是建立起一個令自己能夠適意棲居世界。」