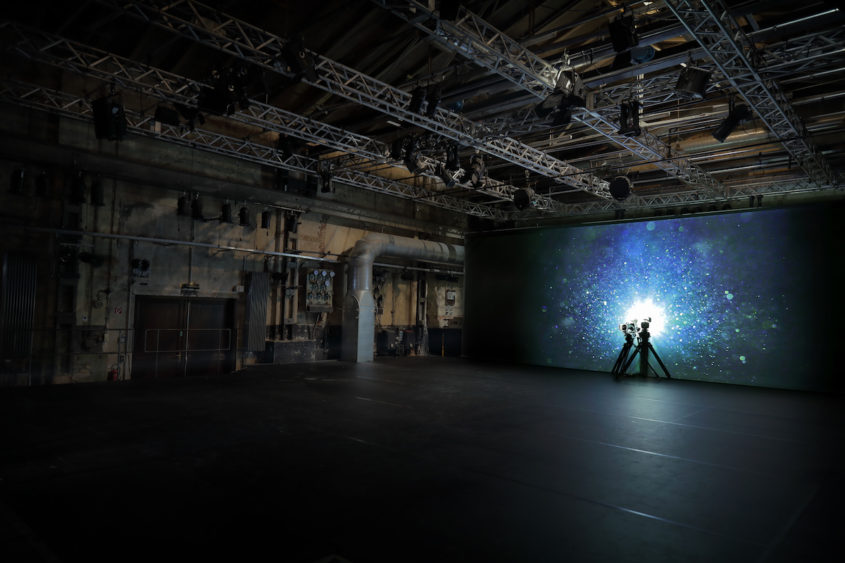 Installation
Video camera, projector, tripod
Dimensions variable
空間裝置
攝影機、投影機、三腳架
尺寸可變
2006
In front of the Screen, the Camera Points in the direction of the light of the projector. Its focus is on the center of the space, sending video signal of the projector. Thus a live circulation of light and electronic signals is established.
A tripod in front of the projector blocks the light projected into the camera. At the appropriate position and the right angle, you can see the dust in the space reflecting the projector's light. On the screen it wavers and glimmers just like the moment before sunrise when everything in the air can be clearly seen. As viewers walk around in the space and disrupt air current, the image of flickering dust changes rapidly and constantly.
Through the medium of video, we can rediscover and pay attention to the world around us in life.
The work entitled Dust illustrates Wu Chi-Tsung's deep concerns about the nature of media. Wu constantly examines the questions: How do we see the world through media? How does media technology operate as a manipulative mechanism and a source of power? How does media technology change our relation to the world? Wu chooses to manipulate devices of his own design in a highly sophisticated and at times highly unconventional manner. The emerging and hidden images in his work suggest a new relationship between artist and media and image and viewer. —— Shu-Min Lin / 6th Shanghai Biebbale
螢幕前方的攝影機,正對投影機鏡頭的光源,對焦在空間中央,拍攝的訊號傳回投影機中,形成一個光線和電子訊號的現場即時循環。
投影機前一腳架遮斷射入攝影機的光線,在一個適當的位置和角度,空間中的灰塵粒子會反射投影機的光線,在畫面上飛舞閃爍,就像日出前的剎那,空中的一切清晰可見;隨著觀眾的進入走動,帶動氣流的變化,瞬息萬變。
透過影像媒體,重新發現和觀注生活週遭的外在世界。