9 Must-See Artworks in Art Basel's New Meridians Sector in Miami Beach
Dedicated to monumental, museum-worthy installations, videos, and paintings, the inaugural Meridians section is not to be missed
by PAUL LASTER NOVEMBER 29, 2019
Cyano-Collage 064, 300 x 600 cm, presented in Art Basel Miami Fair
Art fairs need to continuously stay fresh, even Art Basel in Miami Beach, which has a reputation for being the art world's favorite party. Looking to add a bit of zest to its exhibition program, this year the fair is inaugurating its new Meridians sector to present large-scale works and performances in the refurbished Miami Beach Convention Center's 60,000 square-foot Grand Ballroom.
"From what I've observed in the past, the curatorial and museum crowd has gotten tired of coming to Miami for only booth presentations, but by bringing more of a curatorial edge to it, I'm hearing that curators are more excited to attend this year," Ben Strauss-Malcolm, a director at Pace, which has two artists—Adam Pendleton and Fred Wilson—in the show, tells Galerie.
Presenting 34 large-scale sculptures, paintings, installations, performances, and film and video projections by an international group of established and emerging artists, the projects were chosen by a selection committee and have been organized by the show's curator, Magalí Arriola, the director of Mexico City's Museo Tamayo.
With a focus on artists and works from the Americas—although its somewhat broader in this initial year because not as many galleries applied—the show addresses issue of race, gender and immigration, which are topics that are floating around the greater art world.
"Many of the works are content-loaded, which is an exciting part of it," Arriola shared by phone from Miami, where she was already working on the installation. "I'm happy with the space and layout and the individual projects. I believe these bigger works give viewers a chance to grasp what's behind the artists' proposals. There are overarching themes that echo between the varied works, which makes the whole section quite compelling."
Chi-Tsung Wu's Cyano-Collage 064
Sean Kelly
To create this sublime blue mountainous landscape, artist Chi-Tsung Wu employs age-old methods in the most innovative of ways, combining a 19th-century photographic printing process known as cyanotype together with the tradition of ancient Chinese landscape painting. To begin, Wu first coats chemically treated crumpled sheets of thin Xuan (rice) paper with an emulsion that turns the paper a deep blue after being exposed to light, before flattening them and collaging the hundreds of pieces onto linen canvas. With no predetermined design in mind, the artist constructs the imaginative scene, which simulates traditional Chinese mountain water (shan sui) paintings, as he goes—becoming a witness to the making of his work. Having a kind of tie-dye effect on the rice paper allows him to create the jagged rocks and snowy peaks and valleys that lend a modulated look to the layered landscape.
To view the full article, please click here
---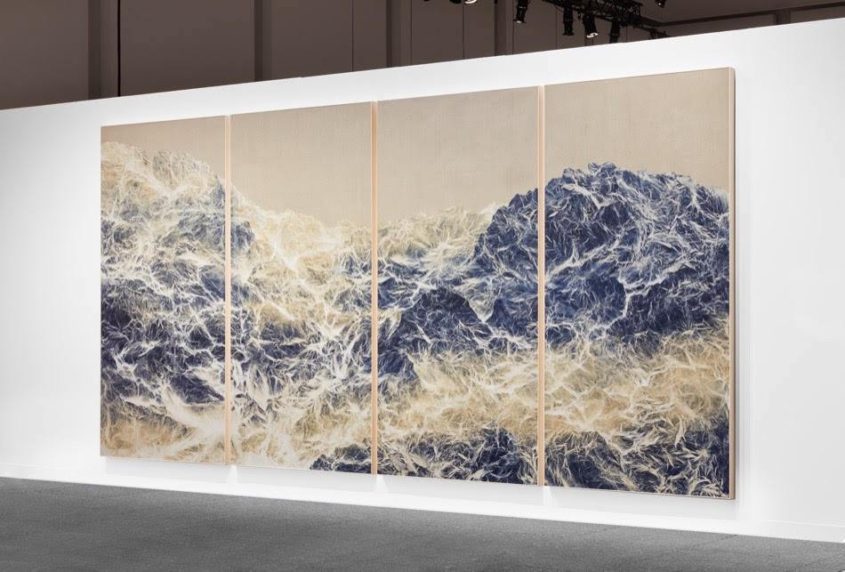 氰山集之六十四,300 x 600 cm,於邁阿密巴塞爾「藝匯經線」展位
巴塞爾邁阿密展會「藝匯經線」展區9件不容錯過的藝術佳作
為了創造這氣魄壯麗的靛藍山水,藝術家吳季璁用最創新大膽的方式去詮釋了一種古老的技法,將源於19世紀的攝影技術『氰版』與傳統中國山水繪畫相結合……他不會預先去設定構圖,而是在創作過程中跟隨紙張與曝光效果而自然構建出如同傳統山水般極富想象力的場景。宣紙上所留下的類似於扎染效果的印痕被他演繹成為叢山峻嶺與冰川雪谷,令畫面完整而富有層次。
-Paul Laster評論吳季璁作品
閱讀更多,請點擊此處