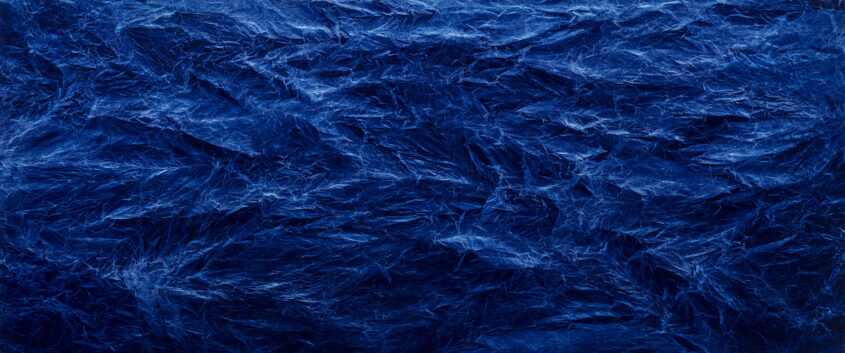 In a recent article featuring the rise of water-themed art in the Financial Times, Wu Chi-Tsung's Cyano-Collage Series was introduced in detail as a supporting argument for the potential cultural and philosophical depth of Art of this theme.
It was stated that Wu Chi-Tsung didn't originally intend his cyanotypes to be about water. He began the works with mountains in mind, but soon saw that his photographic blue spaces resembled tumultuous waves. As the series grew he began to explore ways the works could be interpreted as traditional Shanshui paintings, ocean views and natural landscapes.
Chi-Tsung shares that "I was thinking I could try the possibilities of combining earlier techniques and materials, and hoping I could work with Xuan paper." Regarding the production process that is direct and analogue, "I'm basically like a farmer," he laughs, "it's physical. I crumble the paper, I feel the paper. When the humidity is different it affects the paper. If it's drier, it's harder. If it's more humid, it's softer. There are lots of coincidences that I cannot control. That's the best part." 
The writer continued to state that the results are abstract but appear like seascapes. "I cannot say if [the work] is concrete or abstract," Wu adds. "Chinese landscapes never really represent specific mountains. An artist draws their own interpretation of the scene." Chi-Tsung's works are growing ever larger: his recent show at Sean Kelly in New York included a triptych of pieces reaching up to 9m high. The works also reflect the artist's love of rock climbing in Taipei – "facing a giant wall every day and a sea wave just behind me". Similarly, his aim is to immerse the viewer in the space.
---

在《金融時報》近期一篇關於聚焦於「水」的當代藝術的報道中,《氰山集》系列被詳盡介紹以表現該主題作品在文化廣度與哲學深度上的潛力。
報道中介紹道,《氰山集》系列的最初靈感來源於山景而非水景,但藝術家很快就意識到作品的藍色畫面亦形似波濤洶湧的海浪。隨著系列的發展,他挖掘出其多樣解讀的可能性:它們既可以是一幅山水畫、海景也可能是其他自然風景。
吳季璁分享道,「我想嘗試結合早期的技術與材料,並希望能夠使用宣紙來創作」。而談及其直接而手動的創作過程——而談及他在戶外,與化學藥劑與紫外線共同創作的過程——「我就像一個農民」,他笑著說。他創造性地在宣紙塗佈感光藥劑,將其揉皺後曝光兩小時,再將每張相紙在水中清洗,清洗時長取決於他期望達到的效果,最長可達一小時。「這是個物理性的過程。在揉皺紙張時,我能夠感知到它們的狀態。紙張在不同的濕度下會呈現不同質感,在乾燥氣候中會偏硬、空氣潮濕時則柔軟。(製作過程)充滿了偶然與巧合,是我無從控制的,而這正是最有趣的部分」。
作者評論稱這些作品是抽象的,但看起來又仿若海景。「我不願斷言(作品)是具體的還是抽象的」,季璁補充說,「傳統山水畫從來不描繪具體的山,(它們只是)藝術家對於風景的個人性的欣賞與解讀」。季璁在不斷挑戰作品的尺幅,在他最近於紐約尚凱利畫廊舉辦的個展中,最大的一幅寬達9米。對他而言,創作這件作品的體驗與他熱愛的攀岩是相通的,都是「每天面對一堵巨墻,身後就是海浪」。他希望觀眾在欣賞作品時也能夠擁有同樣的沉浸體驗。
Written by/ 文 Francesca Gavin