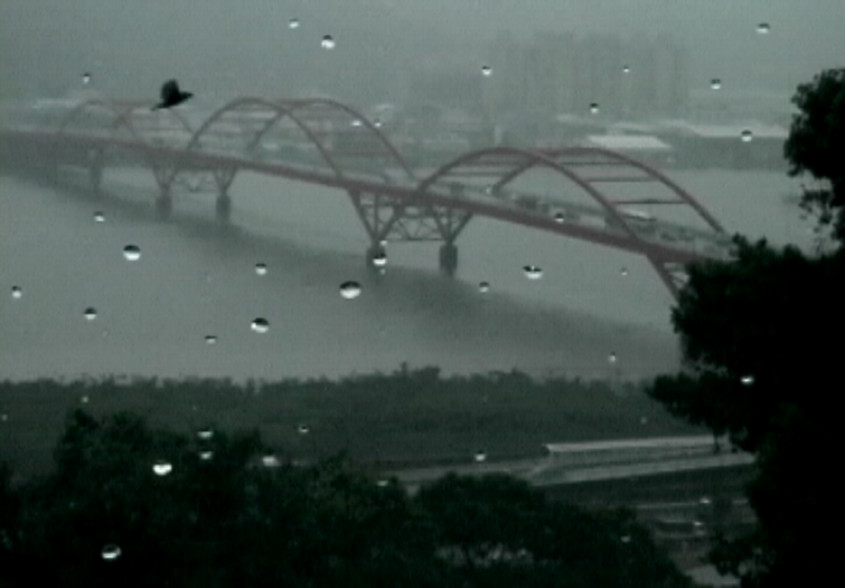 The production of the work rain was quite simple. First, I moved to a flat near the Kuan-Du Bridge and observed the view outside the window shown in the work for a few months. One afternoon, it suddenly rained. When I tried to film the rain, I automatically turned the button controlling the shutter speed. I discovered that raindrops filmed at a shutter speed of 1/8000 second looked quite different.
At the normal shutter speed of 1/60 second, multiplied by about 30 frames per second, one can only record half an image in one second. However, we are seldom aware of the limitation of video images, at least in the temporal dimension, because they already satisfy the requirement of our sight for the illusion of movement. When the shutter speed is increased to 1/8000 second, it means that only 30/8000 of an image is recorded in one second.
In my work, the motion of the falling raindrops gets entirely lost, meanwhile the cars still keep moving. A chasm seems to open up in "eality". We do not know where it will lead.
From another point of view, the camera may be able to see much more than the human eye. However, we usually use it to satisfy our old visual needs and seldom make maximum use of it. Maybe it has things it wants to say. This is an anthropomorphic interpretation.
In addition, in post-production, I slowed down the playback speed to 80%. In terms of the realization of the concept, this gesture may be superfluous. At any rate, I felt that the cars moved too quickly, just like everything in this age. If the speed could be adjusted, 80% may be a good choice.
《雨景》這件單頻道錄影的作品,創作年代約在2002年。約13分鐘的時間內,攝影機並無任何運動,拍攝的是自家窗外的景色,在淡水河、關渡橋一帶,背景有一小片觀音山,前景是大度路、關渡橋的交流道、以及捷運淡水線,整幅畫面的結構有點山水畫中「一河兩岸」的味道。
拍攝時將機器的快門速度設定在1/8000秒,每滴落下的雨滴都被抓住了瞬間停留在空中的影像,非我們熟悉的「一絲」雨滴的殘像,而是一顆顆水珠。由於雨滴墜落的速度太快,在一個個影格間甚至看不出落下的連續關係,只有一顆顆水珠不規則的跳動。但背景的車輛行進速度緩慢,所以在一個個影格間仍保持連續運動的幻象,透過機具設定在時間上稍稍調整,攝影紀錄的「真實」出現了縫隙,相牴觸於人類的視覺經驗,這是一個純然「攝影機」眼中看見的風景。